Youth Soccer Fitness 101
This handy guide is a revolutionary new fitness reference developed just for youth soccer players looking to get into better shape, increase their fitness level, improve overall conditioning and learn to eat healthier to improve their overall lifestyle and soccer performance.
This new guide from Coach Mark Soccer Club has been developed to ensure that your players can perform at peak performance, play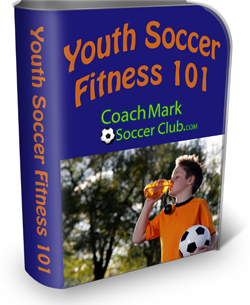 longer, play healthier and have more fun! The book is an electronic book (eBook), which means that it is a digital file and you can download it to your computer, immediately after payment. You can read it on your computer, or print it on your printer. It's that easy.
Included in this new, 31 page, fitness and nutrition guide are the following topics:
Building Up Your Endurance
Cardiovascular Conditioning
Consuming a Proper Diet
Changing Your Lifestyle to Help You Get Fit
Establishing a Workout Routine
Stop Eating Foods which are Really Only Slowing You Down
Your Body is a Machine…
Easy Drills to Get You Started

Lesson 1: Dribbling
Lesson 2: Punting
Lesson 3: The Throw In
Lesson 6: Chest and Head Blocks
Lesson 7: Passing
Lesson 8: The Heel Kick
Lesson 9: The Outside Kick

Playing With Injuries
Sprains, Cuts and Bruises
Strained Muscles
Broken Bones
You've Got to Have Fun!
This is a very colorful guide, with numerous photos and is designed in such a way as to be read, understood and enjoyed by:
Coaches
Parents
Youth soccer players
The soccer fitness guide for youth soccer players is provided in PDF format to be read on any computer (Windows or Mac).

If your team is looking to improve any of these situations, then this guide is for you:
Soccer conditioning

Soccer Fitness

Soccer Endurance

Lifestyle

Weight control

Cardiovascular conditioning

Confidence

Strength

Coach Mark Soccer Club is offering this fantastic electronic book at a price of just $17.00 USD. So, get your guide right now, and you can get a jump on other coaches that don't have this valuable information!
Your information is safe with us. We do not share your information .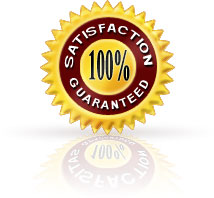 PS. I will personally guarantee that this guide will provide you with the information you need to take your player's conditioning and diet to the next level. If within 30 days of purchase, you are not 100% satisfied with this guide, I will refund your $17.00 purchase price, no questions asked. That's how confident I am that this will help your team become more fit, stronger and better equipped to play a better brand of soccer!